SOURCE:
It's gotten a lot tougher for would-be buyers to find a condominium or co-operative apartment in Palm Beach. Blame the fallout from the coronavirus pan- demic, which first sent the real estate market into a frenzy in 2020 as buyers flocked to Palm Beach.
Since then, buyers — many from out of state seek- ing Florida's relative tax advantages — have ripped through the available condo inventory.
Third-quarter sales reports issued last week by real estate agencies that do business on the island drove home the challenges facing the island's multi-family market — tight supply, strong demand, higher prices and fewer sales.
And the trends for the condos sold in July, August and September echoed the sales picture for single-family homes, as previously reported by the Palm Beach Daily News.
In Midtown and the near North End — the areas that house the most expensive apartments in town — there were 29 offerings in the multiple listing service at the end of September, according to the third-quarter report prepared by agent Suzanne Frisbie and her Frisbie Real Estate group at the Corcoran Group.
That was roughly a five-month supply — the second lowest on record — based on the so-called "absorption rate," according to Frisbie's report. The rate takes the number of apartments sold in a given period and divides it by the number on the market at the time. It was similar inventory scenario on the South End's Condominium Row, where condos typically sell for far less than those in Midtown. There were 70 units on the market there at the end of the third quarter a seven month supply, "which is an indicator of strong demand," the report said.
In all, 17 condominiums sold in Midtown and on the North End during the third quarter, "down 65% year- over-year versus last year's record-high number," the report said. The tally for South End transactions was 33, having fallen nearly 60% from the same period a year ago.
But even with fewer sales, there were some big numbers recorded for condos and co-ops that sold in the traditionally slower off-season that started in May.
Here's a look at the six Midtown apartments that sold for more than $12 million in Palm Beach over the summer, including one that broke the town's condo price record, all confirmed by monthly sales reports issued by the Rabideau Klein law firm. Two other sales set new South End price records.
The prices reported here are the ones recorded by the Palm Beach County Clerk's office.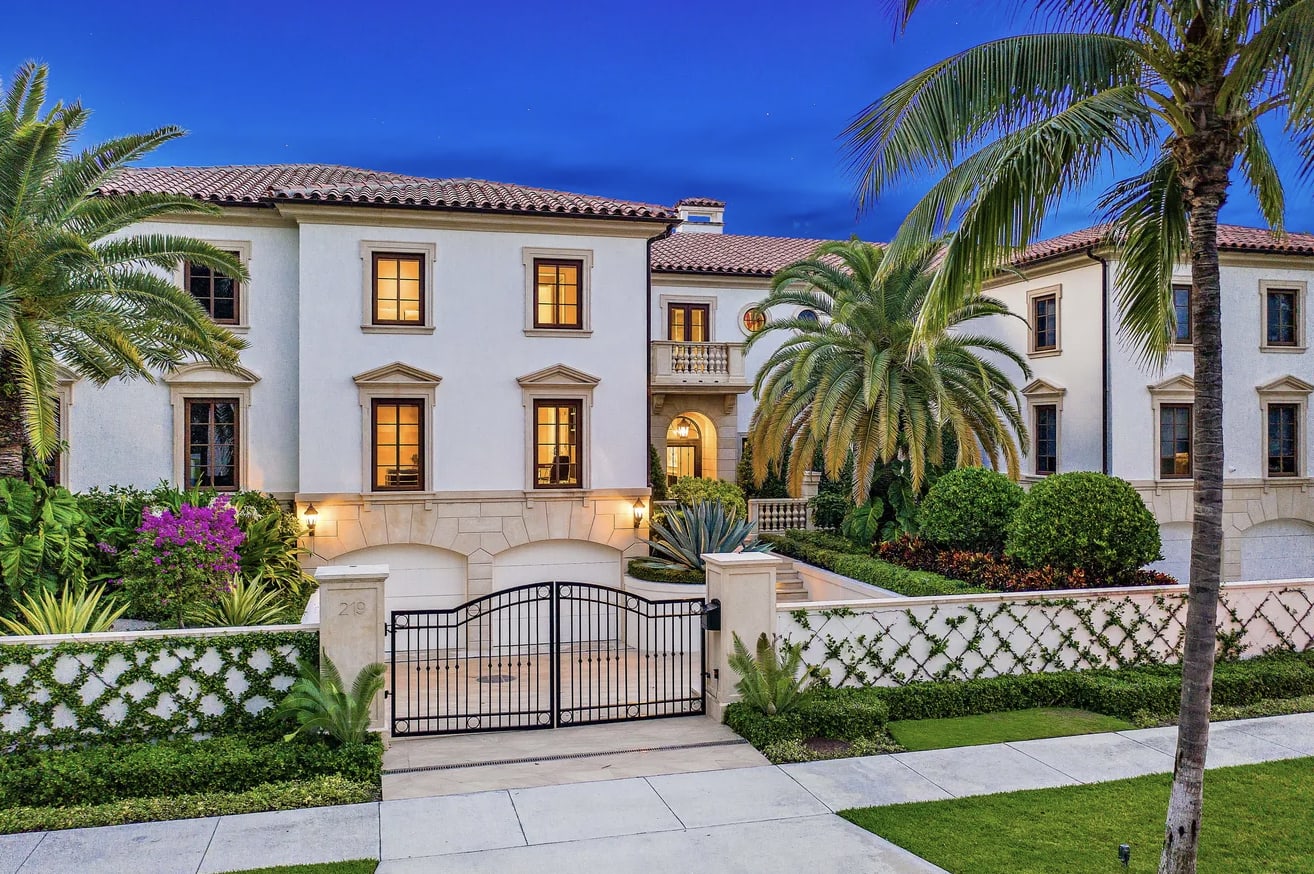 PELICAN PIX, PROVIDED BY PREMIER ESTATE PROPERTIES
A tri-level condominium at 219 Brazilian Ave. in Midtown's townhouse-like Palazzo Villas development sold in May for $18.6 million.
$18.6 million, 219 Brazilian Ave.: Although it looks more like a townhouse, this tri-level condomini- um in Midtown's Palazzo Villas development set a condominium price record when it sold furnished via a deed recorded in May 9. The buyer was a Florida lim- ited liability company named 219 Brazilian Avenue LLC, managed by Lake Worth Beach real estate attor- ney Alison R. Percy. The seller was a land trust for which Palm Beach attorney M. Timothy Hanlon serves as trustee. Premier Estate Properties handled both sides of the sale, with agent Jim McCann on the listing side and agent Margit Brandt representing the buyer. The apartment shares a wall with the previous sold- price record-older, No. 217, which sold in March for a recorded $17.8 million.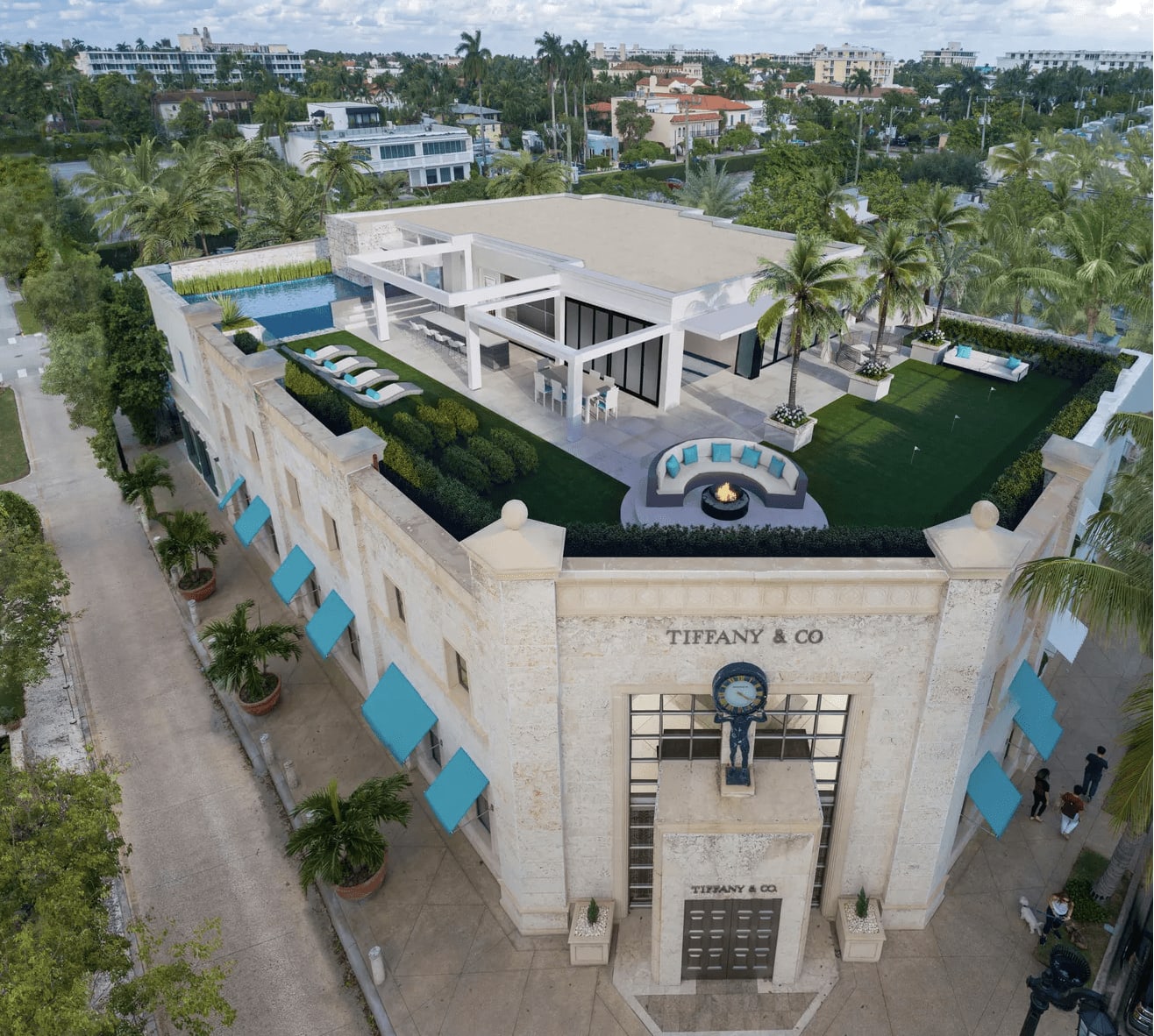 PROVIDED BY TOWN OF PALM BEACH
A digital rendering shows the rooftop terrace of an unfinished condominium on the second-floor of the Tiffany Building at 259 Worth Ave. The condo sold in June for $15.5 million.
$15.5 million, 415 Hibiscus Ave.: Real estate in- vestor Mark Mashburn and an investment group in June used a Florida limited liability company named after the property's address to buy an unfinished con- dominium on the second floor and roof of the Tiffany Building on Worth Avenue. The seller of the Midtown property was a joint venture between John Kean of Kean Development Co. and Paisley Boney IV of Hyde Retail Partners, who had bought the property in Octo- ber 2018 with funding from an affiliate of Fortress In- vestment Group. Although the condo had been listed by Douglas Elliman Real Estate agents Gary Pohrer and John Reynolds, it was not on the market when it changed hands this summer. Broker Lawrence Moens of Lawrence A. Moens Associates took part on both sides of the sale.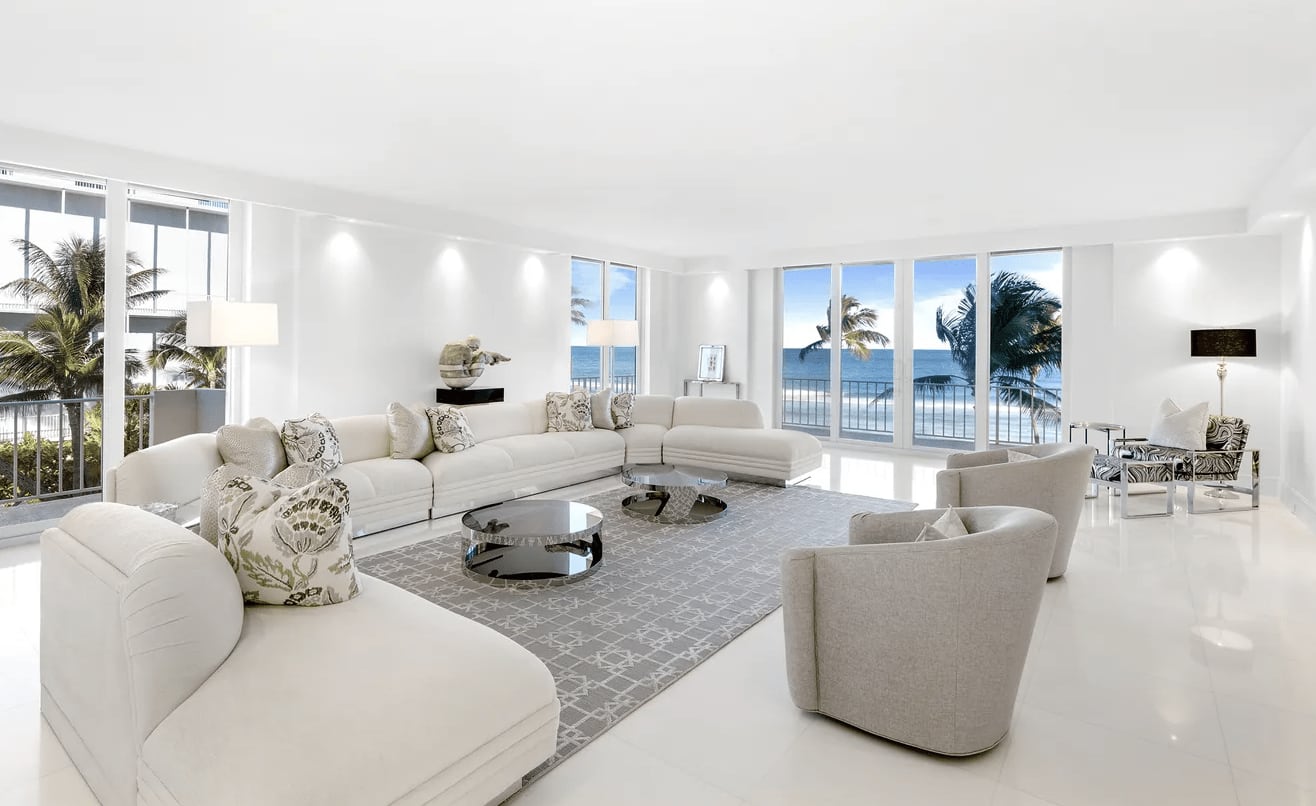 SHAWN HOOD MEDIA, PROVIDED BY BROWN HARRIS STEVENS
A three-bedroom, oceanfront corner apartment, No. 3A in the Kirkland House at 101 Worth Ave., sold for $15 million in June.
Using a family trust, Texas businessman Bennie M. Bray and his wife, Stephanie, bought this third-floor corner condo in Midtown's oceanfront Kirkland House in June. The seller was health-information technology entrepreneur Y. Michele Kang, who had carried out an extensive renovation. Agent Allison Wren of the Corcoran Group handed the transaction for the Brays. Kang was represented by agents Ann Summers and Caldwell Colt Robinson of Brown Harris Stevens.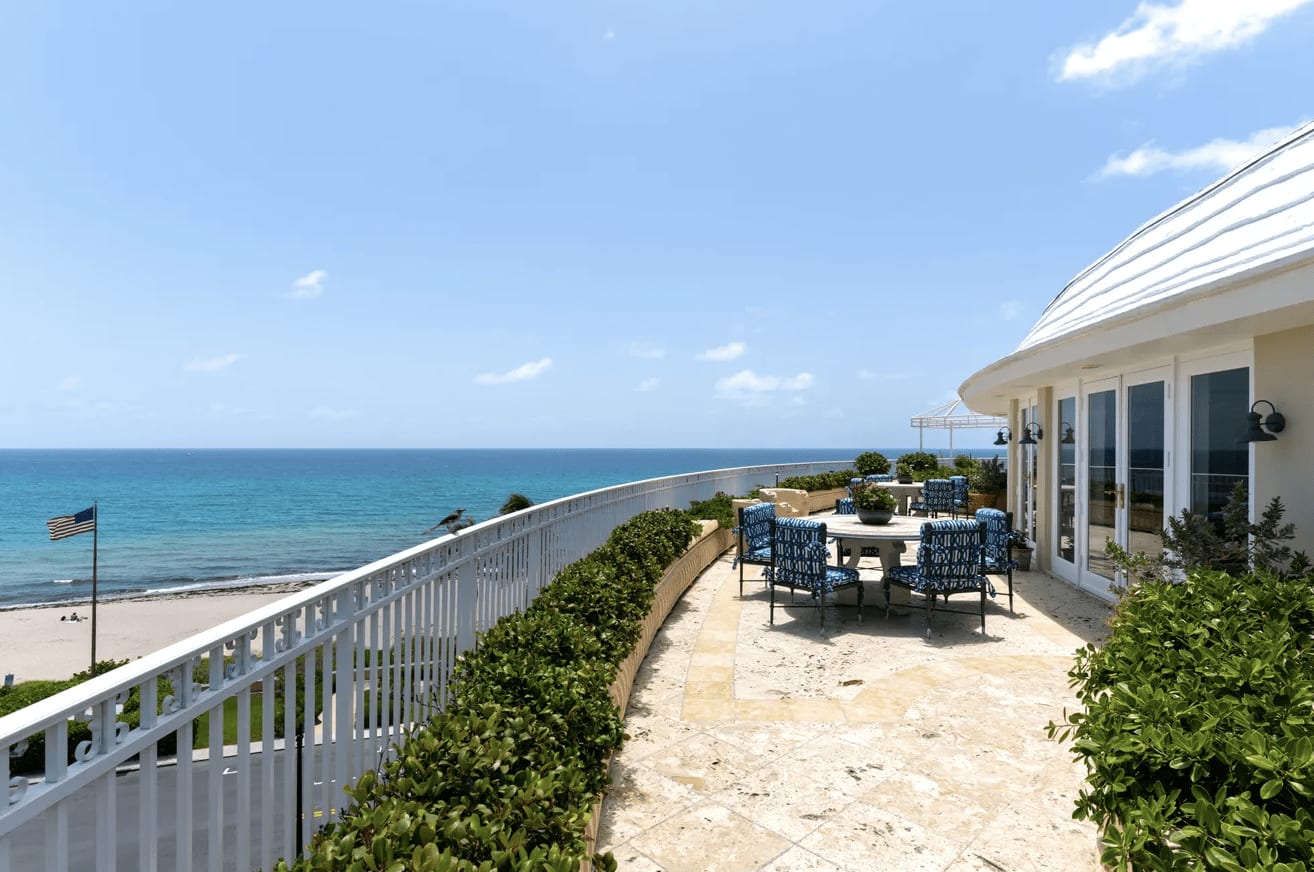 EDOUARD ZAK PHOTOGRAPHY, EDZAKPHOTO.COM, PROVIDED BY LINDA R. OLSSON INC., REALTOR
The terrace of an oceanfront penthouse follows the curve of the condominium building at 100 Royal Palm Way. The rare-to-the-market penthouse sold in September for its asking price of $15 million.
This Midtown penthouse, with an unusually large balcony facing the ocean, was sold in September by Jacquelyn Higgins, widow of former Morgan Stanley chief James Francis Higgins. Texas commercial real estate entrepreneur Clifford R. Fischer and his wife, Rhonda, were the buyers. Broker Linda Olsson of Linda R. Olsson Inc., Realtor, handled both sides of the sale.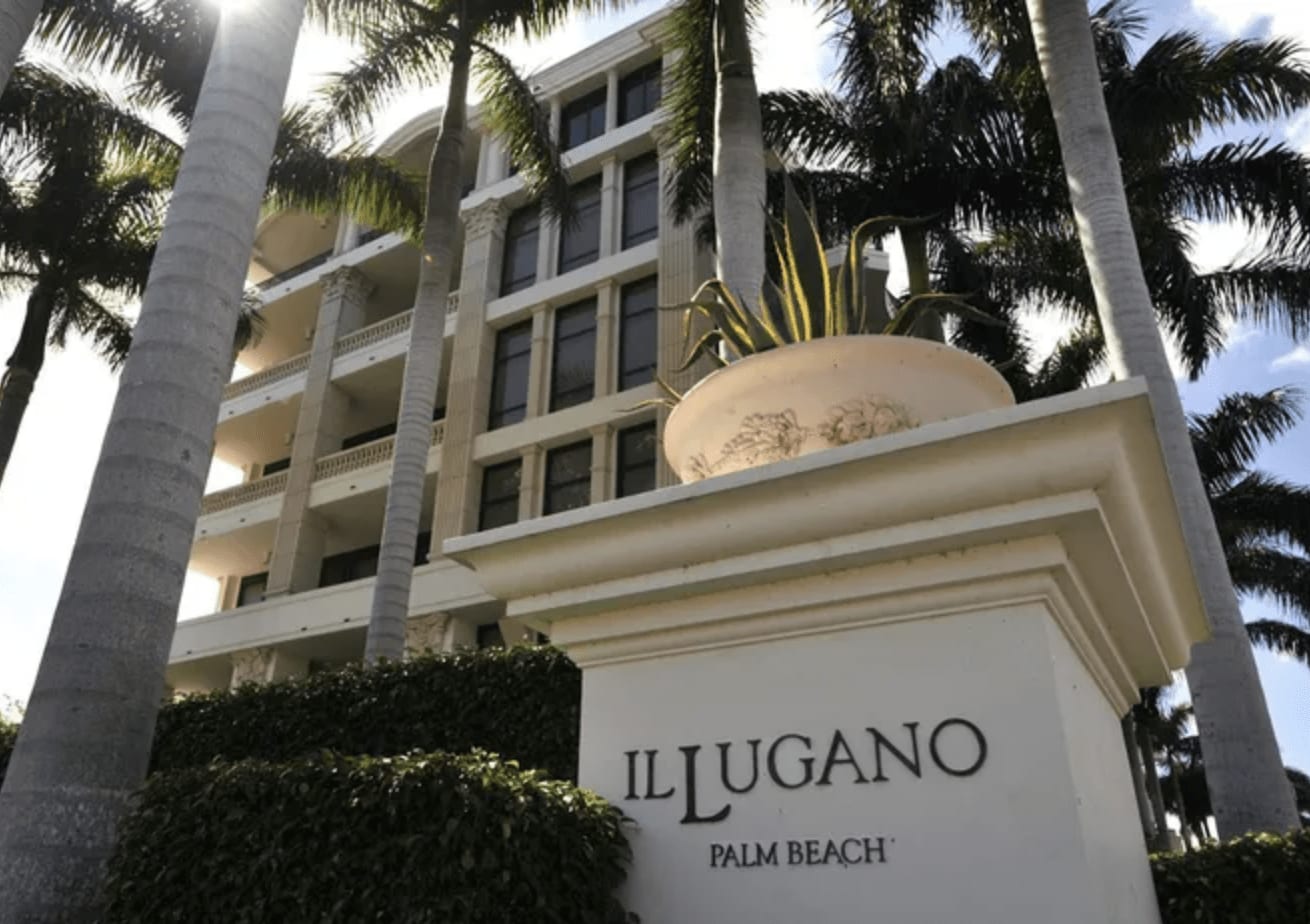 DAILY NEWS FILE PHOTO
In June, a condo that had been owned by former Beatle Sir Paul McCartney's late father-in-law changed hands for a recorded $13.5 million in the lakefront Il Lugano building at 300 Seminole Ave. on the near North End.
With ties to the wife of former Beatle Paul McCartney, this condo in the lakefront Il Lugano building sold privately in June on the near North End. It was sold by Nancy Shevell McCartney, and her sister, Susan Shevell Cohen, and had been home for more than 20 years to their late father, trucking executive Myron "Mike" P. Shevell. On the buyer's side was a Georgia limited liability company with an address in care of Atlanta-based ECI Capital, a company specializing in multi-family real estate. The Palm Beach Daily News has been unable to confirm if any real estate agents took part in the sale.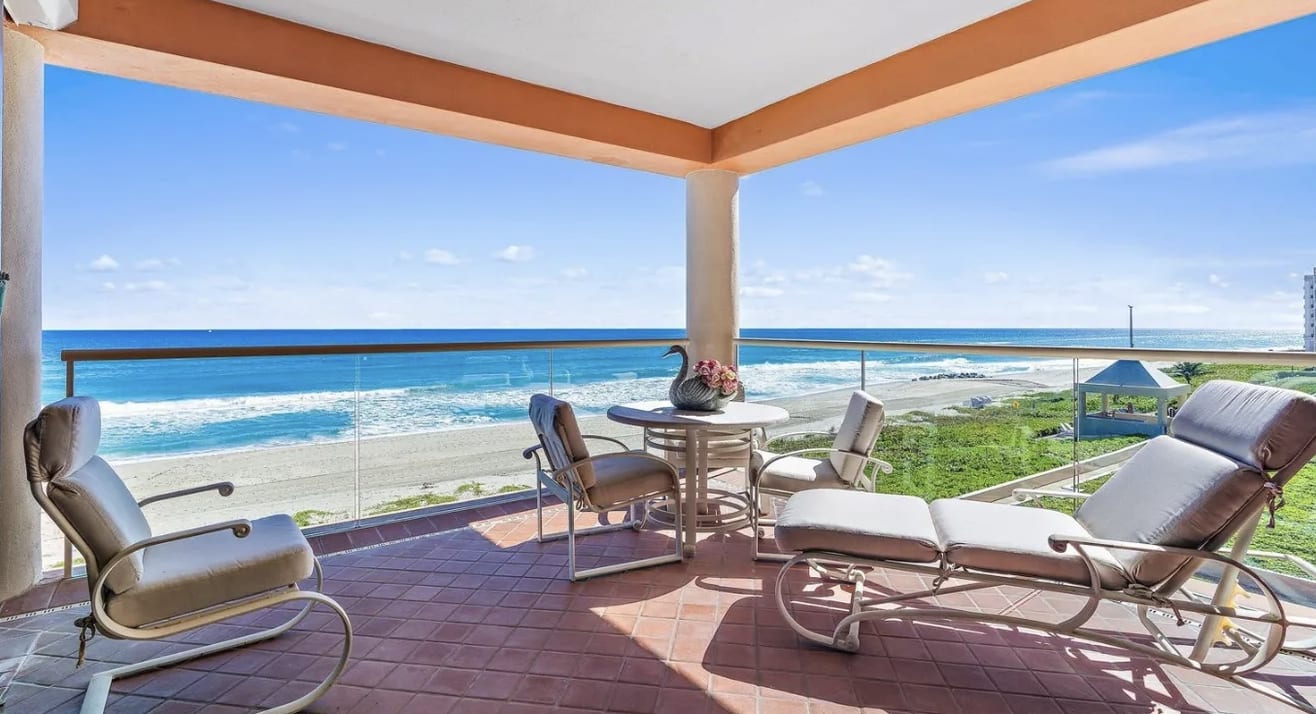 PELICAN PIX, PROVIDED BY LINDA A. GARY REAL ESTATE
Condominium No. N32 at 2 N. Breakers Row has a corner glass-railed oceanside terrace accessed from the main living area. The two-bedroom unit sold in June for $12.25 million.
This corner condominium facing the ocean changed hands in June after being held by the same family since 1994. On the sellers' side of the Midtown deal were two trusts associated with the adult children of Carol Rabb Goldberg — whose family founded New England's Stop & Shop grocery chain — and her late husband, Avram J. Goldberg, who with his wife had each headed the company. Broker Christian Angle of Christian Angle Real Estate acted on behalf of the buyer, the Seahorse Two Revocable Trust Palm Beach, for which attorney John W. Randolph Jr. served as trustee. Linda Gary of Linda A. Gary Real Estate was the listing broker.
Meanwhile on the South End of Palm Beach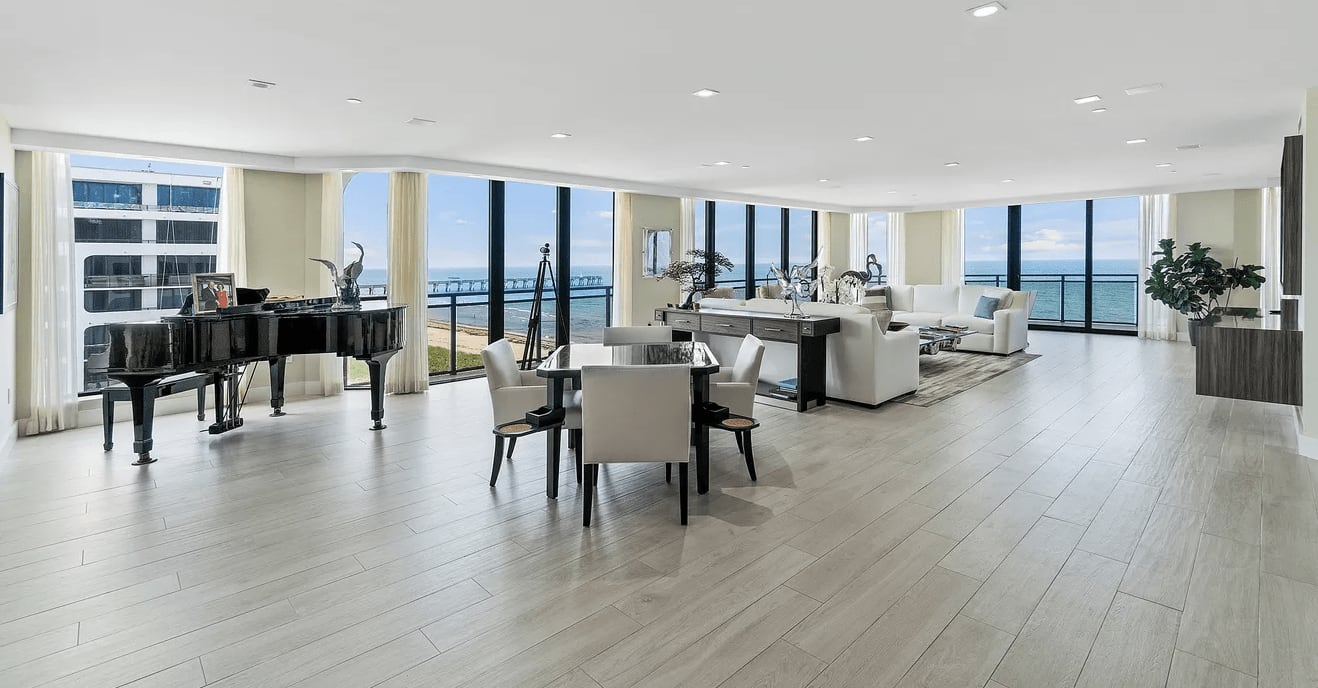 LIVING PROOF REAL ESTATE PHOTOGRAPHY, PROVIDED BY CORCORAN GROUP
With dramatic views of the ocean in Palm Beach, a three-bedroom condominium at the Palm Beach Hampton on South Ocean Boulevard sold with a pool cabana in August for $8.5 million, setting a new South End condo price record.
A couple of summer condo sales in the Palm Beach Hampton building on the South End are worth noting because they broke the $8 million mark, something never before seen for single-apartment transactions south of Sloan's Curve on South Ocean Boulevard's Condominum Row. The deals were part of a summer spurt of higher-end condo activity on the South End.
$8.5 million, PH 501S, 1300 S. Ocean Blvd.: This oceanfront penthouse with views of the Intracoastal Waterway sold with a pool cabana in August. The sellers were contractor Irene Athans and her husband, retired Army Gen. Carter W. Clarke Jr. of Winter Park, who completely renovated the fifth-floor unit in the south building. On the buyer's side was a land trust with an address in Stamford, Connecticut, linked to William M. Krabbe and Sherrod Krabbe. Corcoran Group agents Dana Koch and Paulette Koch represented the sellers, and Paulette Koch also acted on behalf of the trust.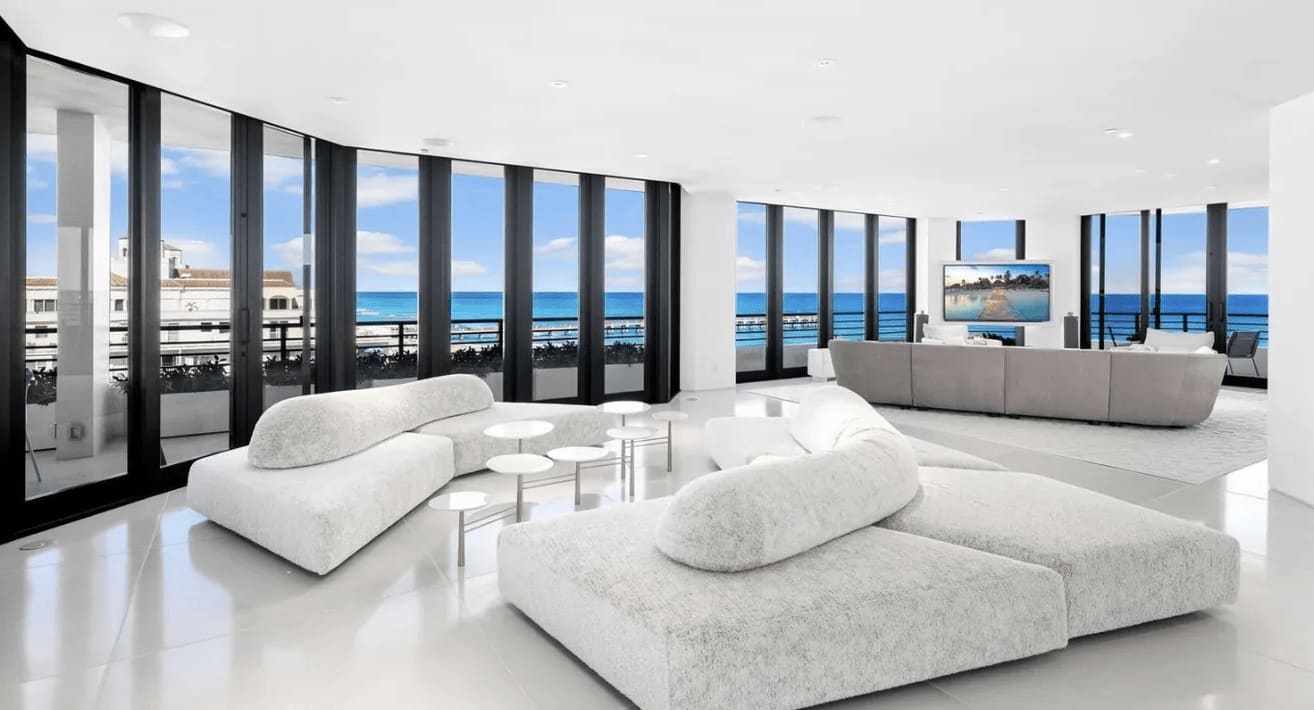 DANIEL PETRONI, DANIEL PETRONI PHOTOGRAPHY
In June, this northeast-corner penthouse, No. 705N at the Palm Beach Hampton, set what was then a South End condo record when it sold with a pool cabana for $8.065 million.
$8.065 million, PH 705N, 1300 S. Ocean Blvd.: In early June, this penthouse and its cabana changed hands on the seventh floor of the north building and briefly held the South End sales record. The buyer was a Florida limited liability company named LD 3100 Ocean Properties LLC, which is managed by Benjamin Polk of New York City. Paulette Koch and Dana Koch represented the buyer, the MLS shows. Angle had listed the apartment in early January at just under $8.5 million for the sellers, Anderson Libert and his wife, Jessica Paindiris.