These Palm Beach condo, townhouse sales topped $12M in 2022; new records set, then broken
Darrell Hofheinz
USA TODAY NETWORK
Palm Beach watched as two new condominium sales records were set ? and then broken ? in 2022, with the year capped by a deal that scraped $24 million. That sale raised the price bar to a new height when buyer Robert Kraft, owner of the New England Patriots, scored a penthouse on the North End beachfront.
Last year also saw a new sales record set for a Palm Beach townhouse when a residence overlooking Midtown Beach on South Ocean Boulevard changed hands for nearly $28 million. Another 2022 townhouse sale in the same quadplex topped $25 million.
In all, eight Palm Beach condos fetched more than $12 million last year, compared to four in 2021. The number of townhouses sold in that price category in 2022 was unchanged from two the previous year.
Here's a look at the condos and townhouses that punched through the oncerarified $12 million barrier in Palm Beach, all confirmed by monthly sales reports issued by the Rabideau Klein law firm. The prices reported here are the ones recorded by the Palm Beach County Clerk's office.
$23.75 million, Leverett House, No. E4B, 110 Sunset Ave.: An entity linked to billionaire Kraft in December paid $23.75 million for a penthouse and cabana at the Leverett House. The fourbedroom condo with 6,376 square feet, including its 1,300-square-foot wraparound balcony, spans the entire east side of the four-story, direct-beachfront building. On the seller's side were trusts linked to the late Mark Daniel Wolf and his late mother, Joyce "Joy" Wolf. She had shared the condo with her late husband, oil-and-gas industry entrepreneur Erving G. Wolf. Broker Christian Angle of Christian Angle Real Estate acted for the buyer. The listing agents were Paulette Koch and Dana Koch of the Corcoran Group.
$18.6 million, 219 Brazilian Ave.: Although it looks more like a townhouse, this four-bedroom, tri-level condominium in Midtown's Palazzo Villas quadplex development set a since-eclipsed condo price record when it sold furnished via a deed recorded in May. The buyer of the condo ? with 6,092 total square feet ? was a Florida limited liability company named 219 Brazilian Avenue LLC, and the seller was a land trust. Premier Estate Properties handled both sides of the sale, with agents Jim McCann on the listing side and Margit Brandt representing the buyer.
$17.8 million, 221 Brazilian Ave.: Sold in March at what was then a record- setting condo price, this five-bedroom apartment shares a wall with the Palazzo Villas unit that sold in May for $18.6 million. No. 221 is slightly smaller, with 5,242 square feet. Joined by his wife, Valeria Gallagher, seller Paul E. Gallagher deeded the condo to PB Brazilian Way LLC. That limited liability company is linked to longtime real estate investor Clay W. Hamlin III and his wife, Lynn B. Hamlin, along with trusts associated with them. Angle was the listing agent and negotiated opposite Alice D. Hodach of Keller Williams Palm Beach Island.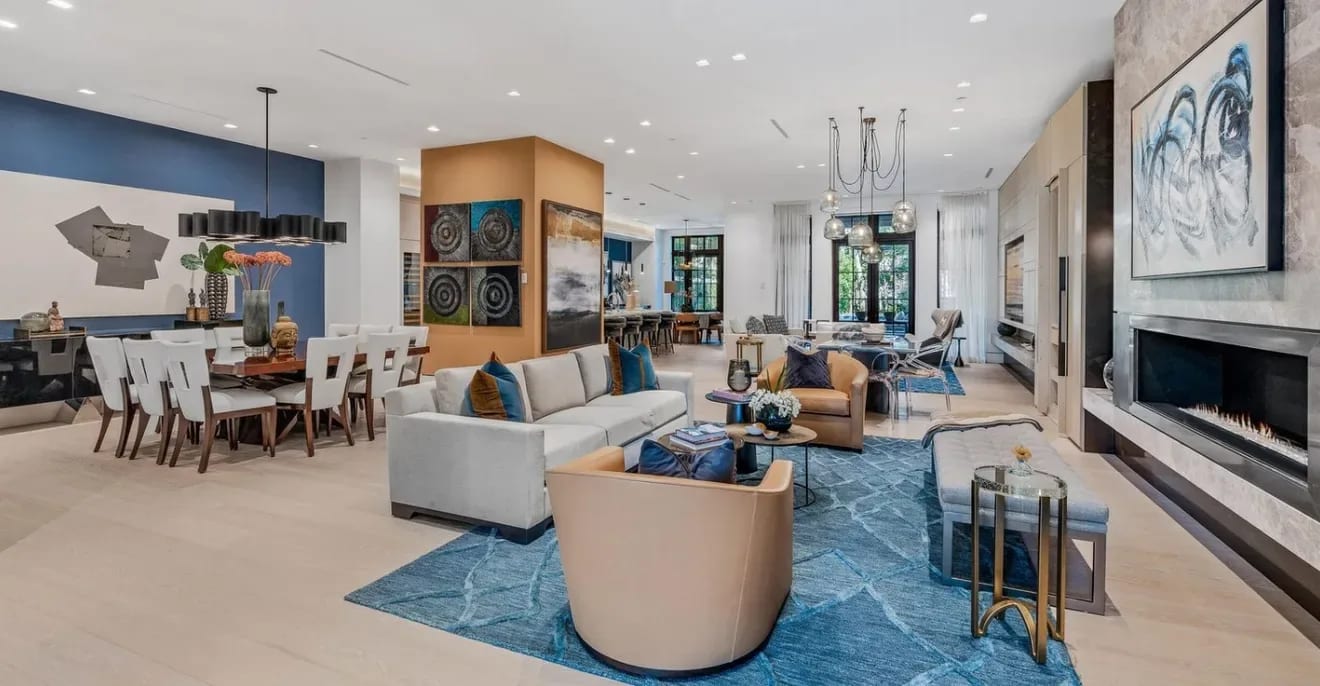 $15.5 million, 415 Hibiscus Ave.: Real estate investor Mark Mashburn and an investment group in June used a Florida limited liability company named after the property's address to buy an unfinished condo on the second floor and roof of the Tiffany Building on Worth Avenue. In all, the condo has 13,000 square feet of living space, inside and out. When the sale closed, developer Todd Michael Glaser said he was working with the investors who bought the property. The seller was a joint venture between John Kean of Kean
Development Co. and Paisley Boney IV of Hyde Retail Partners, who had bought the property in October 2018 with funding from an affiliate of Fortress Investment Group. Although the condo had previously been listed in the multiple listing service by Douglas Elliman Real Estate agents Gary Pohrer and John Reynolds, it was not on the market when it changed hands. Broker Lawrence Moens of Lawrence A. Moens Associates was involved on both sides of the sale.
$15 million, No. 3A, Kirkland House, 101 Worth Ave.: Using a family trust, Texas businessman Bennie M. Bray and his wife, Stephanie, in June bought this third-floor corner condo with 4,130 total square feet in the oceanfront building in Midtown. The seller was health-information technology entrepreneur Y. Michele Kang, who had carried out an extensive renovation. Agent Allison Wren of the Corcoran Group handled the transaction for the Brays. Kang was represented by agents Ann Summers and Caldwell Colt Robinson of Brown Harris Stevens.
$15 million, PH 1, 100 Royal Palm Way: This three-bedroom Midtown penthouse, which has 5,870 total square feet and an unusually large balcony facing the ocean, changed hands in September. Jacquelyn Higgins, widow of former Morgan Stanley chief James Francis Higgins, sold the condo to commercial real estate entrepreneur Clifford R. Fischer and his wife, Rhonda. Broker Linda Olsson of Linda R. Olsson Inc., Realtor, handled both sides of the sale the sale.
$13.5 million, No. 6C, 300 Seminole Ave.: With ties to the wife of former Beatle Paul McCartney, this condo in the lakefront Il Lugano building sold privately in June on the near North End. It was sold by Nancy Shevell McCartney, and her sister, Susan Shevell Cohen, and owned for many years by their late father, trucking executive Myron "Mike" P. Shevell. On the buyer's side was a Georgia limited liability company with an address in care of Atlanta-based ECI Capital, a company specializing in multi-family real estate. Property records show the condo has three bedrooms and 2,895 total square feet. The Palm Beach Daily News was unable to confirm if any real estate agents took part in the sale.
$12.25 million, No. 32N, 2 N. Breakers Row: Facing the ocean, this two-bedroom corner condo ? with 3,445 total square feet ? changed hands in June after being held by the same family since 1994. On the sellers' side were trusts associated with the adult children of Carol Rabb Goldberg ? whose family founded New England's Stop & Shop grocery chain ? and her late husband, Avram J. Goldberg, who, with his wife, had each headed the company. Angle acted on behalf of the buyer, a trust. Broker Linda Gary of Linda A. Gary Real Estate held the listing.
---
Frisbie Group sells two townhouses, one a record-setter
$27.75 million, 460 S. Ocean Blvd.: Developer Frisbie Group in April set a Palm Beach townhouse-sale record when it sold, off market, the third of four oceanfront townhouses it developed on the site of the old Charley's Crab restaurant facing Midtown Beach. Retired multi-family real estate investor Edward S. Pantzer and Pamela Pantzer bought the townhouse using a revocable trust, property records show. The five-bedroom unit has 10,110 total square feet, which includes the ground level, the second floor and a finished basement. Corcoran Group agent Suzanne Frisbie, who is also a principal with Frisbie Group, handled the seller's side, negotiating opposite Angle.
$25.58 million, 466 S. Ocean Blvd.: In June, the Frisbie Group sold out its Midtown Beach townhouse development. Financier Steven Hudson bought the five-bedroom townhome, which has two stories above ground and a finished basement. In all, the residence has 10,110 square feet of living space, inside and out. Frisbie again acted for her family's company in the sale. Agent Chris Leavitt of Douglas Elliman Real Real Estate represented the buyer.