Glaser's group lists in-progress Tarpon Island home at $218M
Darrell Hofheinz
USA TODAY NETWORK
Developer Todd Michael Glaser just gave Palm Beach house-hunters this season a few more choices in a market where buyer demand is continuing to far outstrip the inventory of better-quality homes.
Glaser and the real estate investors he works with on Friday listed four properties, including a $218 million whopper. That's the price of a nearly completed renovation-and-expansion project Glaser is overseeing at a house at 10 Tarpon Isle on Palm Beach's only private island.
Glaser has returned the project on Tarpon Island to the market after a summer hiatus. With 360-degree views of the Intracoastal Waterway, the artificial island in the Estate Section measures about 2.3 acres. A picturesque bridge connects it to Tarpon Way, which leads to the rest of Palm Beach.
With completion expected in two months, the Tarpon Island project on Friday once again took the top spot as the priciest Palm Beach property in the multiple listing service.
Glaser also relisted, for $79 million, a lakefront estate at 854 S. County Road. The property, formerly owned by Tampa Bay Buccaneers co-owner Darcie Glazer Kassewitz and her husband, Joel Kassewitz, is being marketed in both the single-family and land categories at the same price.
Friday also saw the re-listing of a house being developed on speculation at 1080 S. Ocean Blvd. ? a few blocks north of former President Donald Trump's Mara- Lago Club ? with a price of $32 million. The residence is expected to be completed by February.
And a second-floor condominium with a roof terrace atop the two-story Tiffany Building on Worth Avenue was listed as an unfinished shell at $24 million.
The condo, addressed as 415 Hibiscus Ave., sold for a recorded $15.5 million in June to an entity controlled by real estate investor Mark Mashburn. At the time, Glaser said he was working with the small investment group that bought the property. The rooftop terrace has been completed but the interior is unfinished.
Glaser declined to comment for this story. The latest listings were first reported by Bloomberg News.
Glaser's investors in the project on Tarpon Island and the South Ocean Boulevard spec house include Miami developer Jonathan Fryd and developer Scott Robins, president and CEO of Scott Robins Cos. in Miami Beach.
They have invested in other Glaser-controlled projects in Palm Beach and Miami-Dade County, where the developer built his career before turning his attention to Palm Beach several years ago. His eponymous company has offices in Miami Beach and Palm Beach.
On Tarpon Island
Broker Christian Angle of Christian Angle Real Estate has the listing on Tarpon Island. When completed, the 11-bedroom house will have 28,618 total square feet of living space, inside and out, the plans show.
The long list of amenities includes a five-car garage; a 98-foot swimming pool with a whirlpool spa and a "cold plunge" pool; and one of the town's only lighted tennis courts. The layout includes an indoor spa with a massage room, hair salon, steam room and sauna; a paneled library; a home gym; and an entertainment room with a fireplace, wine storage, billiards area and movie lounge.
Angle said Friday that Tarpon Island was "truly a one-of-a-kind property. I know that we say things like that on occasion, but in this case it's not an exaggeration."
He added: "Todd Michael Glaser is developing the most remarkable property on the most spectacular private island in the country ? and in Palm Beach," Angle said.
The buyers set a town lakefront price record when they bought the property for $85 million in July 2021 from its longtime owners, private investor William Toll and his wife, Eileen.
Corcoran Group agent Suzanne Frisbie has the listing for the former Kassewitz estate on South County Road. With a total of nine bedrooms, the property on 2 acres includes the main residence built in the 1940s, a pool cabana and a detached guesthouse for a combined 16,491 square feet of living space. The Kassewitzes carried out an extensive renovation.
Frisbie said the property's size and its lakefront location make it a rarity in Palm Beach. Of all the singlefamily properties in town, she said, "only 57 are of 2 acres or larger ? and this is one of them."
Although it is priced at land value, the property is being sold with Glaser's town-approved plans for a master bedroom addition that would add a wing on the south side of the house.
The estate lies about midway between Worth Avenue and Mar-a-Lago. The 220 feet of frontage on the Intracoastal Waterway afford vistas that include downtown West Palm Beach across water. "The views are stunning ? and I mean stunning," Frisbie said.
Corcoran Group agents Paulette Koch and Dana Koch have the listing for the house being built on South Ocean Boulevard, which will overlook a beachfront home on the opposite side of the coastal road. The lot measures six-tenths of an acre.
"It's new construction, which is the gold standard in Palm Beach," said Dana Koch. "People want brandnew or newly renovated."
The five-bedroom Mediterranean-style villa ? designed with two stories and a basement ? will offer some ocean views. Interior features will include a twostory entry with a sweeping staircase, a primary suite with two bathrooms, two bar rooms, a gym and a home theater. In the backyard, a covered loggia and the terrace above it look out to the pool.
Glaser knocked down an outdated house on the lot after his $4.6 million purchase closed in December 2020.
The Tiffany Building condo is being represented by two agencies. Agent Chris Leavitt of The Leavitt McIntosh Team at Douglas Elliman Real Estate has co-listed it with Jill Zeder and Jill Herzberg of The Jills Zeder Group at Coldwell Banker Realty in Coral Gables and Miami Beach.
With rooftop views of the Avenue and steps from its restaurants and shops, the condo will offer a buyer "city living, Palm Beach-style," says Leavitt.
The condo was originally developed by the entity that sold it in June ? a joint venture between Kean Development Co. and Hyde Retail Partners, which had bought the property in October 2018 with funding from an affiliate of Fortress Investment Group.
In November 2019, the town approved plans for a five- to six-bedroom condo with 13,000 square feet of living space, inside and out, on the building at the corner of Worth and Hibiscus avenues. Of that space, 9,876 square feet would be under air conditioning. A single room on the roof ? set amid gardens with a small pool ? could be used as a primary bedroom or a lounge area. The rooftop room is framed in, and the pool and landscaping have already been installed.
In the purchase of the condo and February's $53 million sale of 854 S. County Road, Glaser's interests were handled by broker Lawrence Moens of Lawrence A. Moens Associates.
Frisbie was the lead agent who represented Glaser and his investors when they bought Tarpon Island. She also acted on behalf of Glaser and his investors in the purchase of 1080 S. Ocean Blvd.
The condo, the estate on South County Road and the spec house on South Ocean Boulevard were among an extensive portfolio of Palm Beach real estate holdings over the past two years that had been marketed for Glaser and his investors by Moens or were sold in deals in which Moens represented the developer and his investment groups. In all, those sales topped $300 million, according to courthouse records and reporting by the Palm Beach Daily News. Moens could not be reached, and his office was unavailable for comment.
---
Properties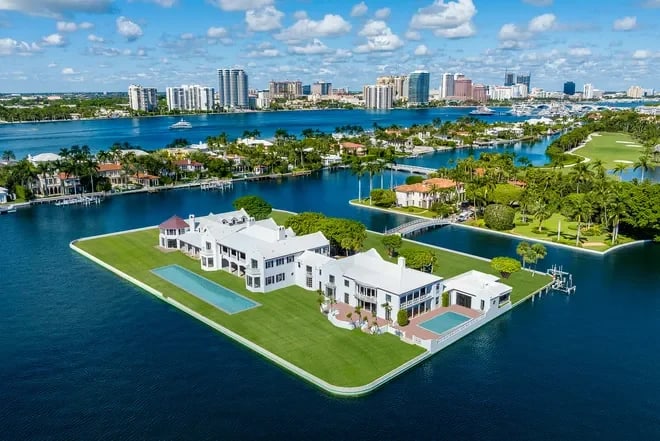 A digital rendering shows the renovation and expansion project developer Todd Michael Glaser has planned for a house on Tarpon Island.
PROVIDED BY FERNANDO LIMA/VISUALIZE-USA FROM A PHOTO BY DANIEL PETRONI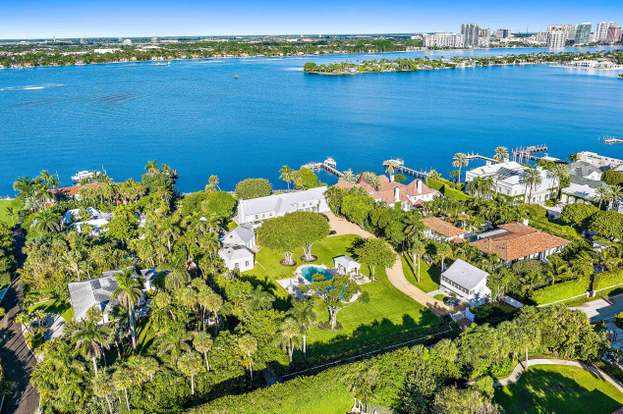 A 2-acre lakefront estate, center, of at 854 S. County Road has just been listed at $79 million for its land value.
PELICAN PIX, COURTESY CORCORAN GROUP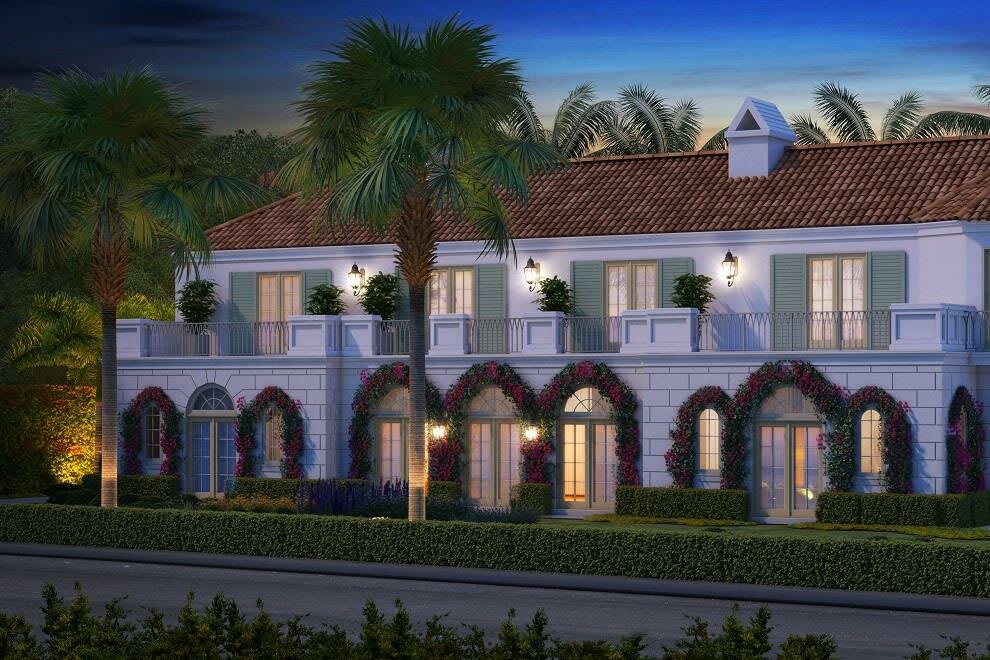 A rendering depicts a Mediterranean-style house being developed on speculation and listed for $32 million at 1080 S. Ocean Blvd.
COURTESY THE CORCORAN GROUP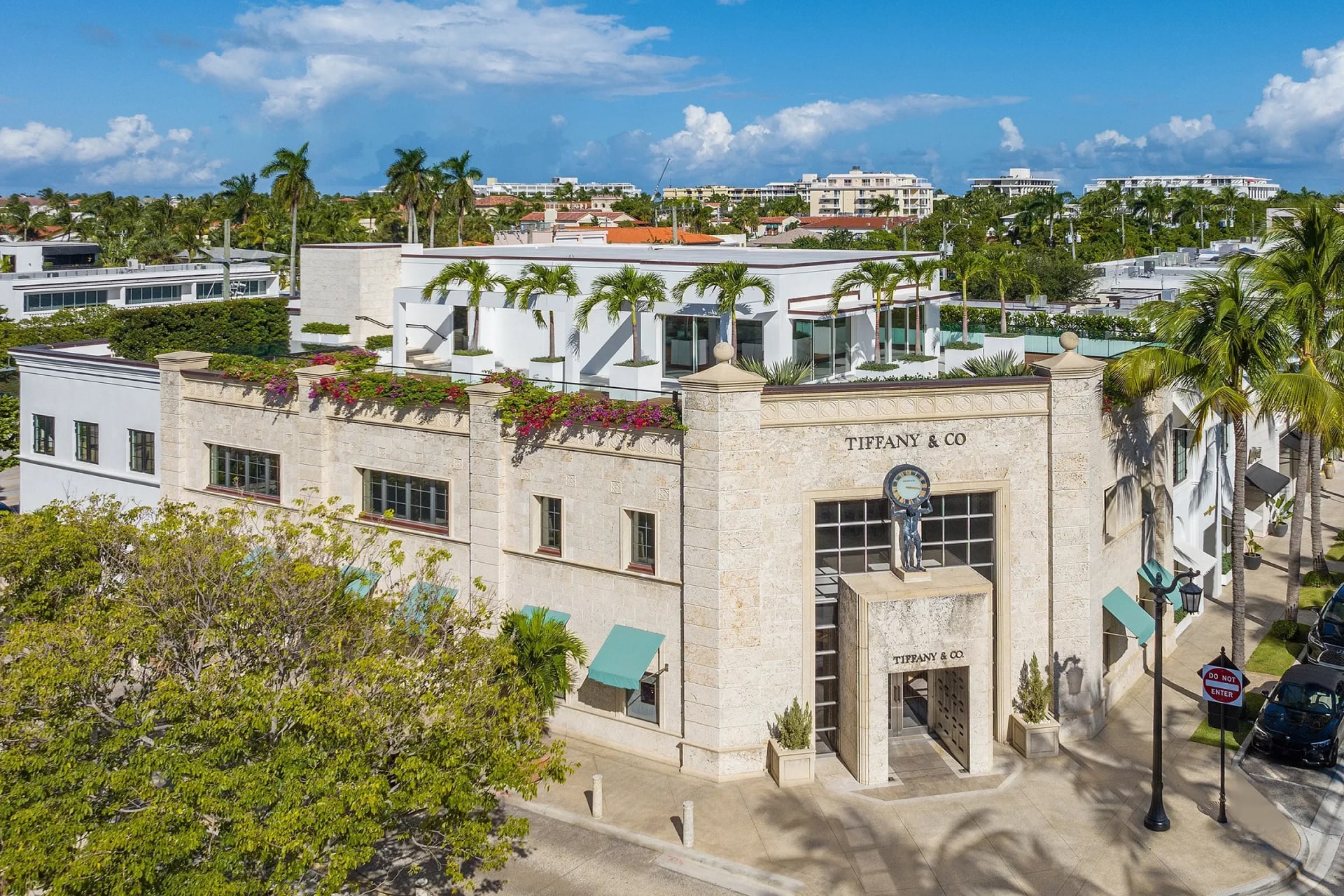 An unfinished condominium on the second floor and roof of the Tiffany Building has just entered the market at $24 million.
DANIEL PETRONI PHOTOGRAPHY/ PROVIDED BY DOUGLAS ELLIMAN AND COLDWELL BANKER REALTY
---